Deborah Stone, DVM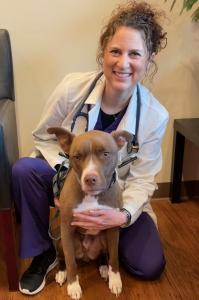 Dr. Stone is a graduate of Cornell University College of Veterinary Medicine. After obtaining her degree, she spent several years working in both Baltimore, MD and Los Angeles, CA before she and her husband settled here in Charlotte. Dr. Stone enjoys medicine and surgery but has taken a special interest in dental health and is now our "go to" person for tooth extractions.
When not here at Clear Creek, Dr. Stone keeps herself busy with her two kids and their after-school activities. She is a dance mom as well as a soccer mom :) The rest of her family includes 2 cats, a bearded dragon, crested gecko and a sweet little rescue Pitbull/Husky mix named Finn. Dr. Stone enjoys travelling, Pilates, ceramics, and basically all things crafty!
Megan Hesson, DVM
Dr. Megan Hesson is a 2018 graduate of Auburn University College of Veterinary Medicine. A Kentucky native, she moved to North Carolina right after graduation to enjoy the convenient access to both the mountains and the beach.
While Dr. Hesson loves all types of medicine, her special interests include surgery, dermatology, and neurology. When she's not at work, you can find her hanging out with her four rescue pets (two cats and two dogs), traveling, reading, and singing karaoke. 
Kimberly Briggs, DVM
Dr. Briggs has known she wanted to be a veterinarian since she was 5 years old and loves being a veterinarian. She went to Furman University for her undergraduate degree and knew she would move back to the Carolinas one day. After graduating from the University of Florida College of Veterinary Medicine, she moved to Charlotte with her husband and two dogs.
Dr. Briggs's special interests in veterinary medicine include surgery, dermatology, and preventative medicine. Her favorite parts of veterinary medicine are being able to make quality relationships with her patients and clients as well as helping pets live their healthiest and happiest lives.
When not at work, Dr. Briggs enjoys traveling, crafting, hiking, and shopping. She especially loves snuggling on the couch with her two dogs after a long day.
Justin Yuen, DVM
Dr. Yuen grew up in sunny southern California and has been passionate about animals from a young age. He received his Bachelor's degree in Animal Biology at University of California, Davis and his Doctorate of Veterinary Medicine at Kansas State University. He loves working with pets to ensure they stay healthy and happy, and to maximize their bond with their owners. His primary interests include routine health care and surgery. In his free time he enjoys watching and playing sports, playing on the drums and piano, hiking, and spending time with his partner and their very stubborn, yet lovable rescue dog Jojo.